Plastering Float Trowel 14×28 Polyurethane Foam Molds
Product Detail
Product Tags
Shaping Mode:
Plastic Injection Mould
Product Material:
Aluminium
Product:
Vehicle Mould
Product Name:
Trowel Mold
Blade Material:
Polyurethane
Color:
Yellow,red,white And So On
Use:
Building Works
Feature:
Light Weight,strong Strength
Packing:
Wood Pallet
Size:
12×24,14×28,18×32,20×36
Type:
Mold Tool
Runner:
Hot Cold
Port:
Shanghai For Trowel Mold
High Light:

12×24 injection molding mold

,

20×36 Polyurethane Foam Molds

,

14×28 Polyurethane Foam Molds
Polyurethane PU Foam Plastering Float Trowel Making Mold Introduction Of PU Plastering Float: Polyurethane Plastering Float differs itself from old products, by overcoming the shortcomings such as heavy, inconvenient to carry and use, easy worn and easy corrosion, etc. The greatest strengths of Polyurethane Plastering Float are light weight, strong strength, abrasion resistance, corrosion resistance, anti-moth, and low temperature resistance, etc. With higher performance than polyester, glass fiber reinforced plastic and plastics, Polyurethane Plastering Float is a good substitution of similar products made of wood or iron.
| | |
| --- | --- |
| Mold Type | Plastic injection mold, overmolding, Interchangeable Mold, insert molding, compression mold, stamping, die casting mold, etc |
| Main services | Prototypes, Mold design, Mold making, Mold tesing, low volume/high volume plastic production |
| Steel material | 718H,P20,NAK80,S316H,SKD61, etc. |
| Plastic production Raw material | PP,PU,Pa6,PLA,AS,ABS,PE,PC,POM,PVC, PET,PS,TPE/TPR etc |
| Mold base | HASCO ,DME ,LKM,JLS standard |
| Mold runner | Cold runner, hot runner |
| Mold hot runner | DME, HASCO, YUDO,etc |
| Mold cold runner | point way, side way, follow way, direct gate way,etc. |
| Mold strandard parts | DME, HASCO, etc. |
| Mold life | >300,000 shots |
| Mold hot treatment | quencher, nitridation, tempering,etc. |
| Mold cooling system | water cooling or Beryllium bronze cooling, etc. |
| Mold surface | EDM, texture, high gloss polishing |
| Hardness of the steel | 20~60 HRC |
| Equipments | High speed CNC, standard CNC, EDM, Wire cutting, Grinder,Lathe, Milling machine, plastic injection machine |
| Month Production | 100 sets/month |
| Mold Packing | standard exporting Wooden case |
| Design software | UG, ProE, Auto CAD, Solidworks, etc. |
| Certificate | ISO 9001:2008 |
| Lead time | 25~30 days |
Features of plastering trowel mould:
1. Light weight: good resilience and tenacity, light and hard,.
2. Fire-proof: reach the standard of no combustion.
3. Water-proof: no moisture absorbing, water permeation and mildew arising.
4. Anti-erosion: resist acid and alkali
5. Environment protection: using polyester as raw material to avoid lumbering6. Easy to clean7. OEM serviece: We have employed R&D center for research, advanced production line, professional engineers and workers,service for you.Also we have successfully developed a design partnership with our OEM clients. Because of the unique high load capacity, high elasticity, wear and tear resistance of our casters and wheels, we are widely chosen by many customers in Middle East,  European,  South Asia, South America, ect.  Application: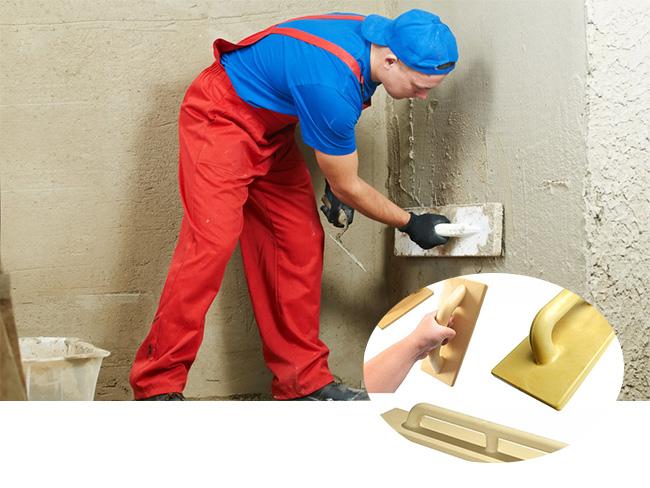 Production Process Of Trowel: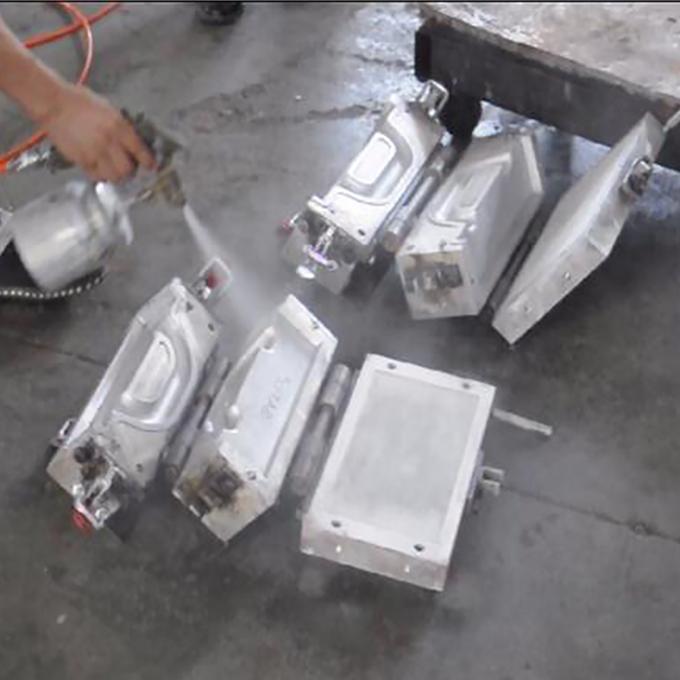 Mould release spray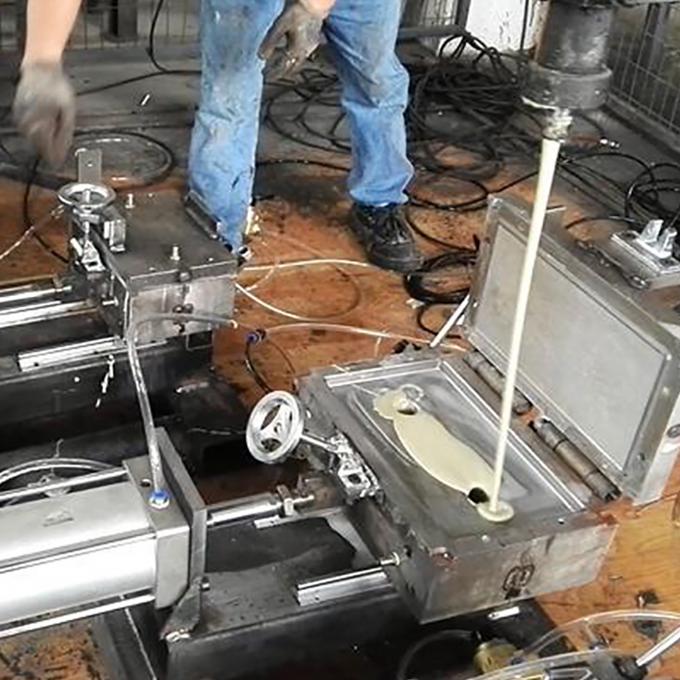 Pouring material into mold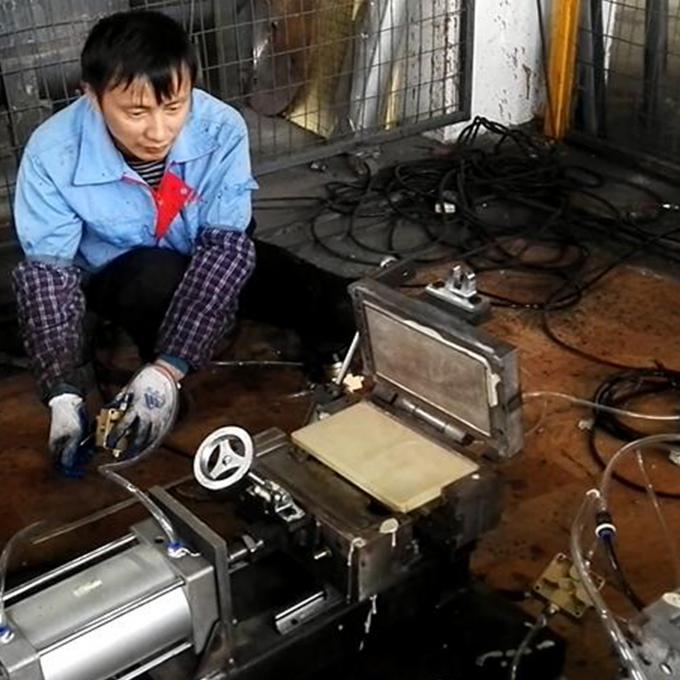 Open the mold take out the trowel  Why Choose Us: Yongjia Polyurethane Co., Ltd. is a professional machinery manufacturer in PU industry combined with design, development, production. Founded in 2013, the construction area of over 10,000 square meters, is the China forefront polyurethane technology company. At present our company's products range covers:high pressure pouring machine, low pressure foaming machine, PU spraying foam machine, PU elastomer casting machine, also we customize to make production line according to clients requirement,like in flexible foam system we make the lines: PU shoe /sole/insole production line(Egypt),anti-fatigue mat production line(India),memory pillow production line(Iran),Albania,elastic ball production line(Mexico),car seat and cushion production line(Morocco),PU slow rebound ear plugs line(India);rigid foam system we make the line:PU decorative molding crown cornice line(Saudi Arab), float trowel making line(Saudi Arab, Pakistan), cold storage panel production line(Uzbekistan),sandwich panel production line(Iraq).Elastomer line:forklift wheel casting line(lran);coal sieve screen select line(Russia).At the same time, we also provide molds for related polyurethane products, which can be customized. The molds we often make include trowel molds, car seat molds, toy ball molds, floor mat molds, imitation wood furniture molds, crown molding molds, pillow molds, shoe insoles molds, etc.
---
---