Wall Ceiling Decoration PU Cornice Making Machine Production Line
Product Detail
Product Tags
Continuous PU Foam Wall Ceiling Decoration Cornice Making Production Line
Compared with the traditional materials, like plaster, wood, concrete, our PU decorative products have more advantage and become the best choice for building decoration. They have the following characters:
1. Low cost: The surface painting is finished and installation time is very short, can be planted, sawed, nailed and glued by yourself, 80% cost saved than using wood and concrete.
2. Light weight and very easy to install: good relilience and tenacity, light and hard.
3. Entirely: classic, elegant and uniform.
4. Fire-proof and heat-insulated: our products reach the Chinese National Fireproof Standard of Grade B2.
5. Water-resistant: no moistureabsorbing, water permeation and mildew arising after being exposed for a long time.
6. Anti-erosion: resist acid and alkali
7. Environment friendly: water based painting used and the raw material is Polyurethane foam, which is free of hazardous chemical elements.
8. OEM service: We can make customized parts according to your drawing, samples and specification.
To set a production line to produce all kinds of pu cornice crown moldings, we need a polyurethane foam injection machine and few resin cornice moulds at least.
Low Pressure Foam Machine:
Material Tank: Double interlining heating material tank with insulation outer layer, heart rapidly, low energy consumption. Liner, upper and low head all use stainless 304 material, upper head is precision machinery sealing equipped to make sure the air tight agitation.
Filter tank: Material in the tank flow to the filter tank Φ100X200 by discharge valve, after filtering, flow to the metering pump. Sealing flat cover on the tank, inner tank with a filter net, tank body with a feeding and discharge port, there is a discharge ball valve below the tank.
Metering: High precision JR series gear metering pump (pressure-tolerant 4MPa,speed 26~130r.p.m ), make sure the metering and ration accurate and stable.
| | |
| --- | --- |
| Technical Parameter: | |
| Injection Output | 50-5000g/s |
| Material tank volume | 250L-500L |
| Injection pressure | 10-20Mpa(adjustable) |
| Mixing ratio range | 1:5~5:1(adjustable) |
| Injection time | 0.5~99.99S(correct to 0.01S) |
| Compressed air needed | Dry,oil free P: 0.7Mpa Q: 600NL/min |
| Temperature control system | Heat: 2*9Kw |
| Input power | Three-phase five-wire 380V 50HZ |
| Total power | 39KW-123KW |

PU Crown Moldings:
PU lines refer to lines made of PU synthetic materials. PU is the abbreviation of Polyurethane, and the Chinese name is polyurethane for short. It is made of hard pu foam. This kind of hard pu foam is mixed with two components at a high speed in the pouring machine, and then enters the mold to form a hard skin. At the same time, it adopts fluorine-free formula and is not chemically controversial. It is an environmentally friendly decorative product in the new century. Simply modify the formula to obtain different physical properties such as density, elasticity, and rigidity.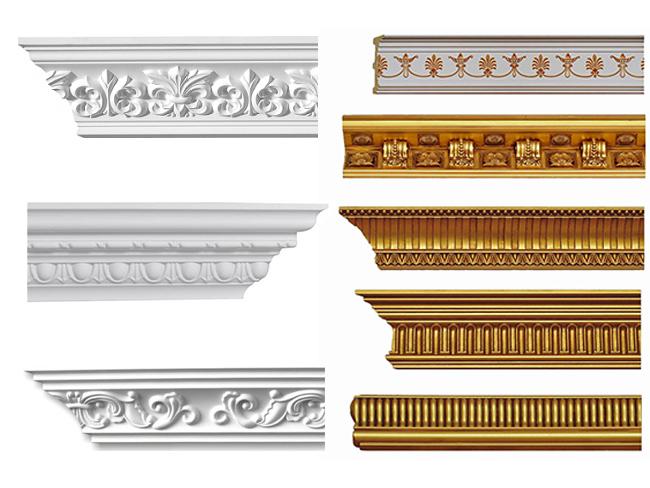 ---
---