Flexible Polyurethane Foam Neck Support Rest Pillow Making Ring Production Line
Product Detail
Product Tags
Flexible Polyurethane Foam Neck Support Rest Pillow Making Ring Production Line
Product Description:
The disc line is used for foaming production of all kinds of polyurethane products. The equipment runs at constant speed, and the running speed and production rhythm can be adjusted. The disk is equipped with a power supply and gas source conveying system. It forms a complete foaming production line with mould temperature machine.
Pillow production line can be divided into three parts: 1.low or high pressure foam machine, 2.pillow production line, 3.pillow mold.
The equipment is composed of rotary platform, gas and electricity rotation device, pipeline device, transmission device, mold frame installation floor and electrical part, etc.
The turntable is equipped with a mold temperature machine. Mold temperature machine is a 80L water tank, a set of 48kw heating device, a circulating pump and a control cabinet. It is through the pump cycle to provide hot water to the mold, thus controlling the mold temperature.
Low-pressure polyurethane foam machines support a number of applications in which lower volumes, higher viscosities, or differing levels of viscosity between the various chemicals used in a mixture are required. To that point, low-pressure polyurethane foam machines are also an ideal choice when multiple streams of chemicals need to be treated differently prior to mixture.
Low pressure foam machine technical Parameter
Injection output
2-1000g/s
Material tank volume
30L-120L
Mixing ratio range
100:28~48
Mixing head
2800-5000rpm, forced dynamic mixing
Compressed air needed
dry, oil free, P:0.6-0.8MPa Q:600NL/min(customer-owned)
Nitrogen requirement
P:0.05MPa Q:600NL/min(customer-owned)
Temperature control system
heat:2×3KW
Input power
380V 50HZ
Rated power
8KW-12KW
Weight
600Kg-1200Kg
Dimension
4100(L)*1250(W)*2300(H)mm
Memory Foam Pillow Making Process: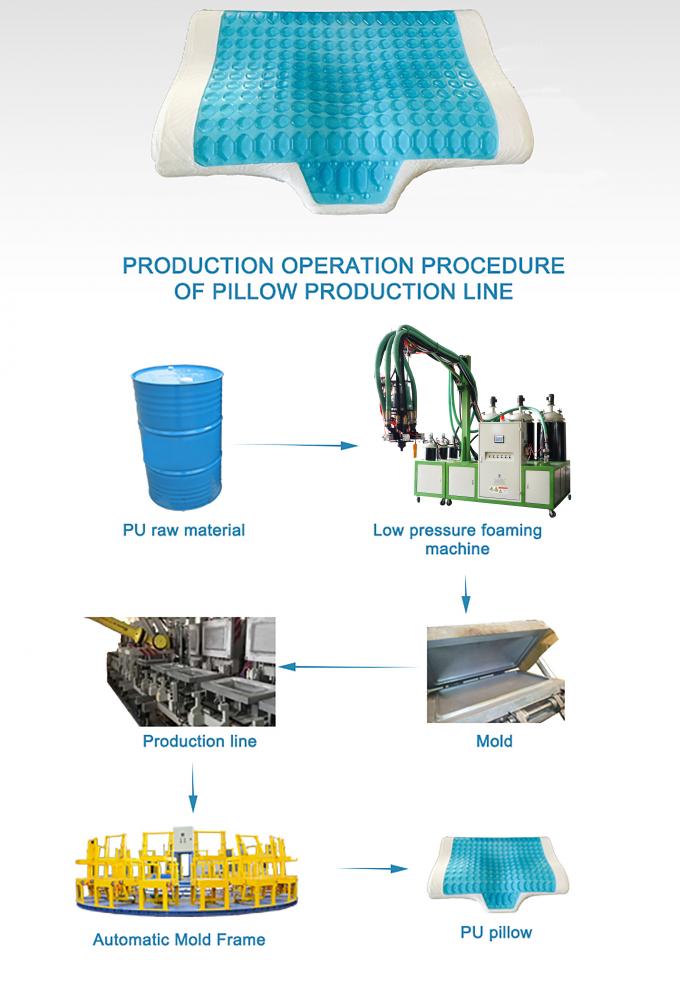 More benefits of this ventilated contour memory foam pillow:
1.CertiPUR-US Certified Memory Foam. Quality material maintains its shape and performance for years.
2. Skin-friendly, easy-care, and machine washable pillow cover STANDARD 100 by OEKO-TEX certificated.
3. Natural firm support with ergonomic design.
4. Cooling holes ventilated design. Say goodbye to night sweats
5. Relieve shoulder and back stiffness. Refreshed the next morning when waking up.
6. Two heights are optional for side, back, and stomach sleepers. There is always one for you.
7. Perfect gift for your loved people. A thoughtful and delightful present was assured.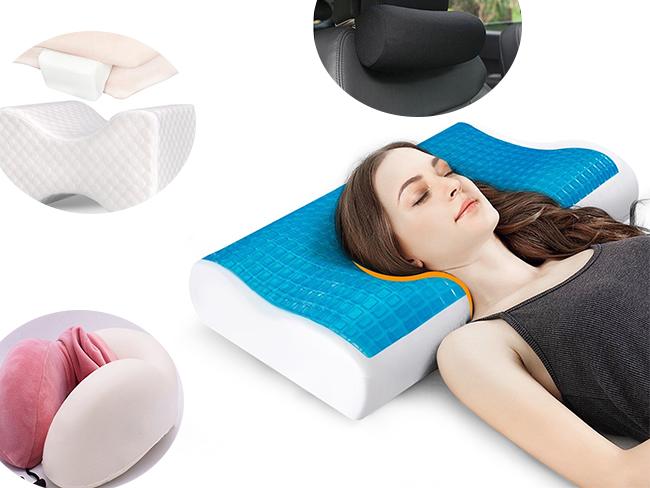 ---
---