PU Foam Shoe Sole Pouring Machine Safety Shoe Making Equipment Machinery
Product Detail
Product Tags
PU Foam Shoe Sole Pouring Machine Safety Shoe Making Equipment Machinery
Introduction:
Annular automatic insole and sole production line is an ideal equipment based on our company's independent research and development, which can save labor cost, improve production efficiency and automatic degree, also possess the characteristics of stable performance, accurate metering, high precision positioning, automatic position identifying.
Bucket
Metering Pump
Metering Pump Motor Power
Spit Out Quality
Total Power
A.120L
JR9
0.75kw
10-40g/s
8.5kw
B.120L
JR3.6
0.55kw
S.2L
JR0.3
0.2kw
Main Parts of the pu shoes making machine:
Low pressure foaming machine is newly developed by Yongjia company based on learning and absorbing advanced techniques abroad, which is widely employed in the production of rigid foam like imitation wood furniture, household appliances(refrigerator,freezer,water heater ), shoes manufacture, thermal insulated building materials, automobile interiors and so on. The machine owns features as high repeat injection precision, even mixing, stable performance, easy operation, high production efficiency,etc.
Semi-pneumatic production line is a versatile mold carrying lines for high-volume production of PU shoes, the diameter of the entire semicircle production line is 7 meters, with water circulation mold heating system and pneumatic control system. will improve product quality, reduce labor intensity and improve production efficiency. Which is very simple to learn and easy to operate.
Application:
Polyurethane soles, popularly known as PU soles, are made from a new kind of organic polymer material. It has been hailed as the fifth big plastic, and is in the process of revolutionizing the shoe industry.
PU sole has lower density than other soles along with a soft texture and high elasticity. This makes it perfect for foot comfort. It not only provides great wear and tear resistance but also has good bending resistance and high hardness along with great shock absorption.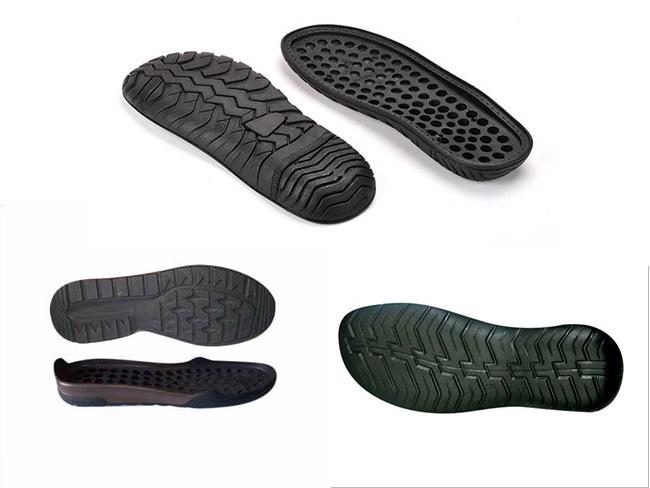 ---
---