CNC Router Reverse Engineering 0.05mm Urethane Foam Mold
Product Detail
Product Tags
Products Status:
Stock
Type:
3D Scanner
Scan Element Type:
CCD
Colour Depth:
32 Bit
Interface Type:
USB
Max Paper Size:
A4
Optical Resolution:
0.05mm
Scan Speed:
480000 Scan/Sec
Warranty(Year):
1-year
After-sales Service:
Others, Onsite Training And Inspection
Light Source:
14 Laser Crosser + 1 Extra Line
Laser Class:
Class II, Eye-safe
Scanning Area:
250*225mm
Datum Distance:
300mm
Depth Of Field:
250mm
Accuracy:
0.02mm
Volumetric Accuracy:
0.020mm+0.060mm/m
Operating Temperature:
-10℃—-40℃
Working Humidity:
10%-90%
Compatible Software:
3D Systems, InnovMetric Software, Dassault Systems, PTC, Siemens
Selling Units:
Single Item
Single Package Size :
15X30X60 Cm
Single Gross Weight:
2.000 Kg
Package Type:
Sea Worthy Wooden Box For PU Polyurethane Baby Ball Toy Stress Ball Foam Foam Balls For Slime
High Light:

0.05mm polyurethane foam mold

,


300mm Urethane Foam Mold

,


0.05mm Urethane Foam Mold
High Precision Portable Handheld 3D Laser Scanner for CNC Router Reverse Engineering Introduction of 3D Laser Scanner: Compared with the traditional structured light route, the handheld laser product has higher precision and stronger anti-interference. In the reverse field, industrial inspection and other fields, it has the characteristics of handheld high precision, which will replace the traditional in this field. factory. In the product line of laser multi-line 3D scanning system, the self-developed products can be 50-60% more efficient than the peers. Multi-line laser is used to more efficiently establish the coordinate system in the space to generate 3D point cloud data and package it into Grid data can be used for 3D reconstruction in a variety of harsh working environments.

Product parameters
Weight, size
6 crossed laser lines + 1 laser line
light source
(Eye safety)
Laser category
classⅡ
Scan speed
Up to 0.02mm
Resolution
0.05mm
Single scan area
250*225mm
Datum distance
300mm
Depth of field
250mm
Scanning accuracy
Max 0.04mm
Volumetric accuracy
0.02mm+0.06mm/m
transfer method
USB3.0
Operating temperature
10℃-40℃
Working humidity
10%-90%
Output Data
.ply,.obj,.vtk,.stl,.off,.ma,.txt,.asc,.neu,.xyz,.scv,.pn,.pv,.pov(customizable)
Compatible software
3D Systems,InnovMetric Software, Dassault Systemes, PTC, Siemens, Autodesk
Features of Handheld Laster 3D Scanner: 1.Not afraid of blackEasily respond to black, reflective objects without the need to spray developer2.High cost performance
Guarantee quality and pursue higher cost performance3.Free scanningHandheld scanning, light and convenient4.Both speed and
speed 480,000 measurements per second, 0.02 mm accuracy5.Lightweight and portableQuick button direct link software provides multiple shortcuts6.Multi-line laserMore efficient creation of coordinate systems within the space to generate 3D point cloud data,Packaged into grid data Application: Industrial grade handheld laser 3D scanner 3D measurement solution case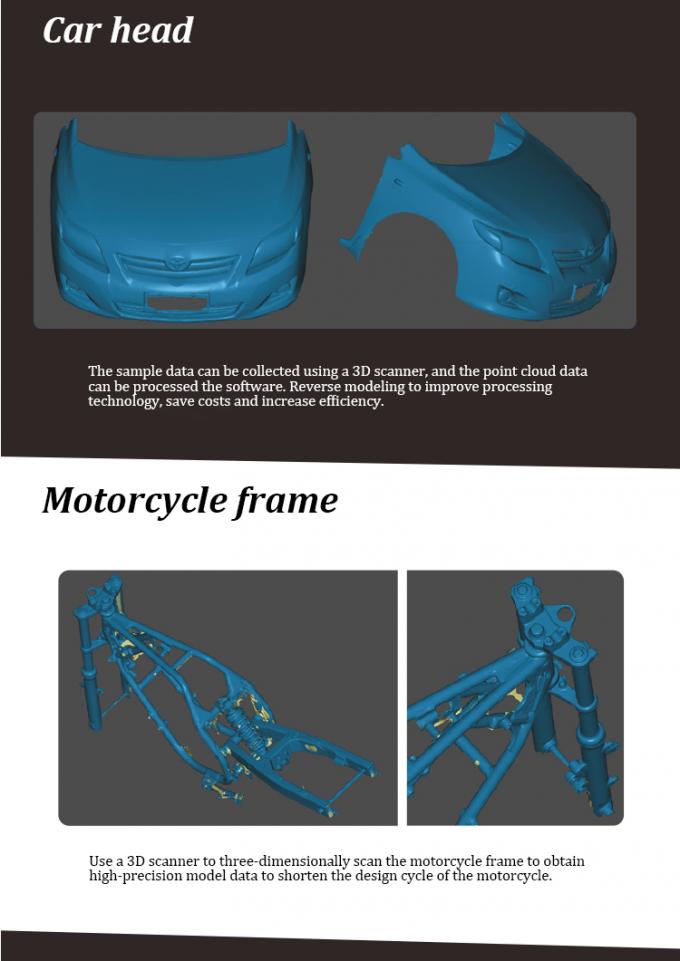 Car headThe sample data can be collected using a 3D scanner, and the point cloud data can be processed through the software. Reverse modeling to improve processing technology, save costs and increase efficiency. Motorcycle frameUse a 3D scanner to three-dimensionally scan the motorcycle frame to obtain high-precision three-dimensional model data to shorten the design cycle of the motorcycle.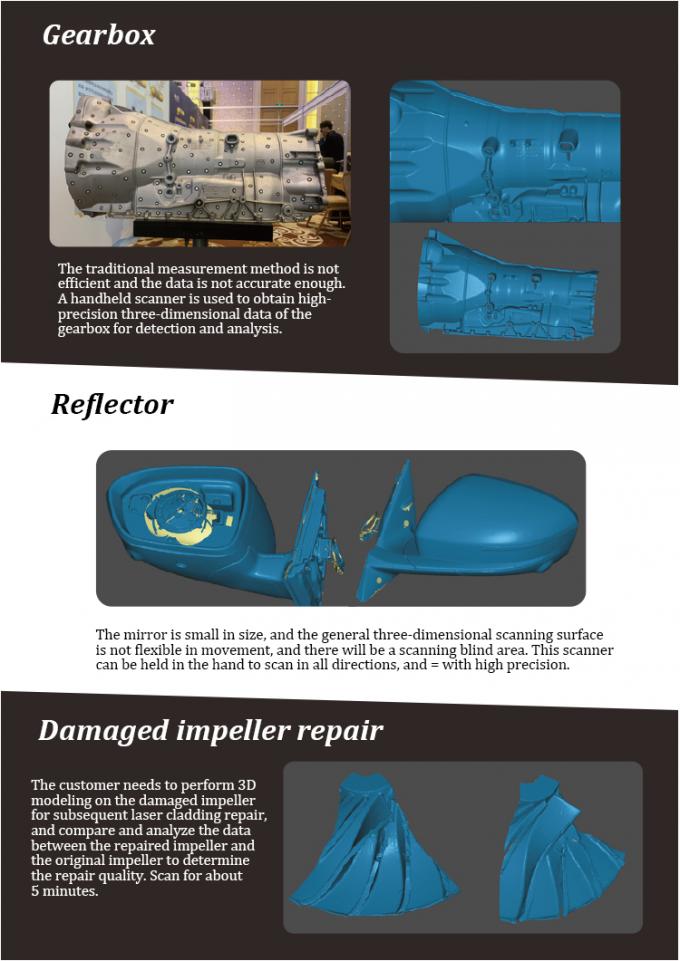 GearboxThe traditional measurement method is not efficient and the data is not accurate enough. A handheld scanner is used to obtain high-precision three-dimensional data of the gearbox for detection and analysis.Reflector The mirror is small in size, and the general three-dimensional scanning surface is not flexible in movement, and there will be a scanning blind area. This scanner can be held in the hand to scan in all directions, and = with high precision. Damaged impeller repair The customer needs to perform 3D modeling on the damaged impeller for subsequent laser cladding repair, and compare and analyze the data between the repaired impeller and the original impeller to determine the repair quality. Scan for about 5 minutes.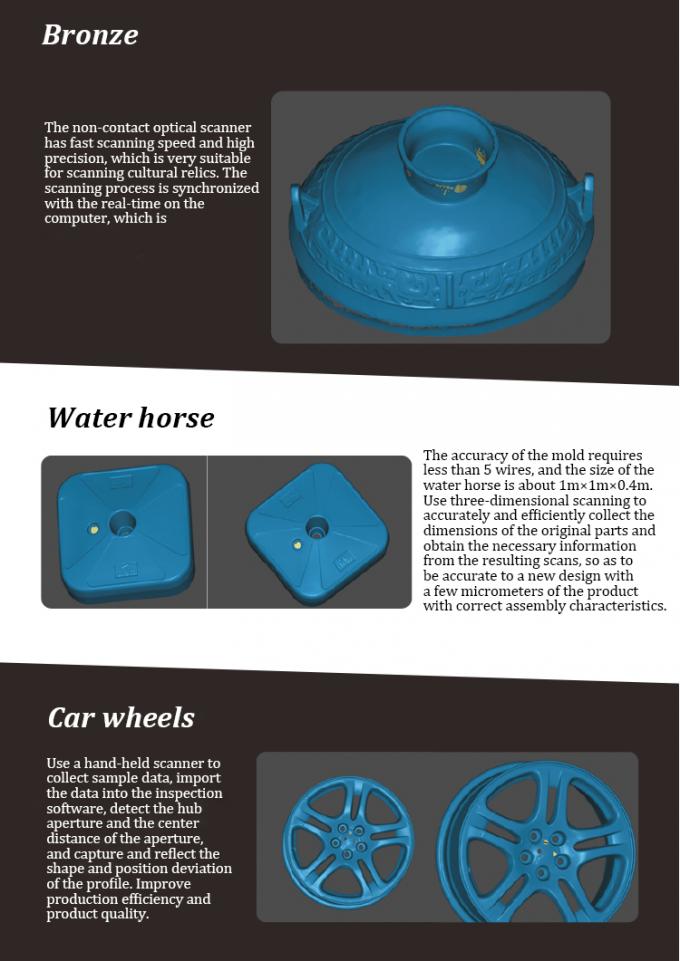 BronzeThe non-contact optical scanner has fast scanning speed and high precision, which is very suitable for scanning cultural relics. The scanning process is synchronized with the real-time on the computer, which is intuitive and clear. On the basis of not harming cultural relics, quickly and accurately obtain three-dimensional data of bronze.Water horse The accuracy of the mold requires less than 5 wires, and the size of the water horse is about 1m×1m×0.4m. Use three-dimensional scanning to accurately and efficiently collect the dimensions of the original parts and obtain the necessary information from the resulting scans, so as to be accurate to a new design with a few micrometers of the product with correct assembly characteristics.Related Products Certifications: Passed ISO quality system certification, with FCC, CE and other certifications, and obtained more than 70 pieces of independent patents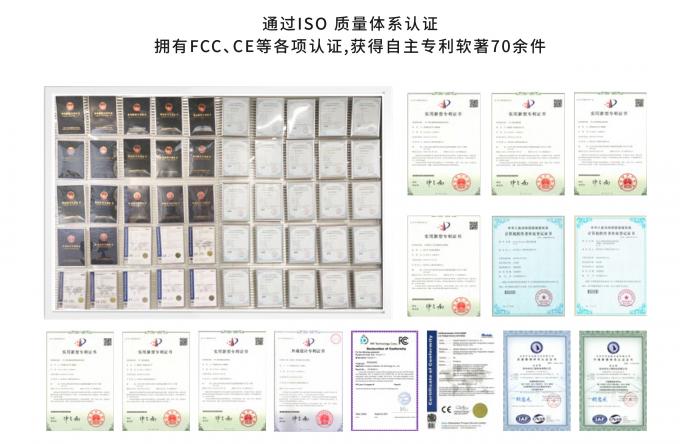 FAQ: 1. What is 3D Scanner?3D Scanner adopts multiple eam laser to obtain 3D point clouds from object surface, Prince Model up to 0.02mm resolution for high details. Axe Model with higher volume accuracy of 0.02mm+0.06mm/m. Hscan Model fit for most applications.
2. Weight and Size of your Portable 3D Scanner?Around 1kg, 148*264*50mm, fit in a handy box&carry into airplane cabin.
3. Why is 3D Laser Scanning needed?Reverse Engineering, 3D Inspection, 3D Visualization, Rapid Prototyping, FEA, Virtual Assembly, Auomate Production
4. What is the application of 3D Scanner?Automative Industry, Aerospace Industry, Rail Transit, Machinery Manufacturing,
Architecural Heritage, Home Decor, 3D Visualization, 3D Printing Education and Research.
5. Is the scanner laser safe for the human eyes?Yes, the scanner laser is class II certified product.
---
---