Antimicrobial Waterproof Non-Toxic Polyurethane Anti-Fatigue Standing Desk Comfort Mat
Product Detail
Product Tags
Antimicrobial Waterproof Non-Toxic Polyurethane Anti-Fatigue Standing Desk Comfort Mat
Introduction: PU Soft Foam Mat is made from high-density polyurethane and is strongly resistant to damage from punctures, scrapes and deformation like folding. Mat features sculpted channels for improved grip on wet and slick surfaces. Use it in the kitchen, laundry room, or workplace where you find yourself standing or kneeling.
Name
PU Anti fatigue foam slip plastic floor mat
Material
Polyurethane(PU)
Color
customizable

Size

0.94kg 37.5*60cm
1.35kg 45*75cm
3 kg 60*120cm
3.6kg 60*150cm
Finished
PU self-skin
Usage
Floor,kitchen,classroom,bathroom,offic bedroom,and so on
Features:
Stand in comfort – large rectangular Mat (32″ X 20″) is made of soft polyurethane foam that contours to your feet, helping to relieve fatigue in the ankles and knees from standing while keeping you comfortable and active longer.
Safe non-slip design – beveled edges reduce the chance of accidentally kicking or tripping on the . 7″ Thick mat. Non-slip bottom features channels for grip on smooth and wet surfaces.
Waterproof – lab-tested and approved to resist mold, mildew, and rot. Polyurethane is waterproof and stain-resistant for easy cleaning with mild soap and water.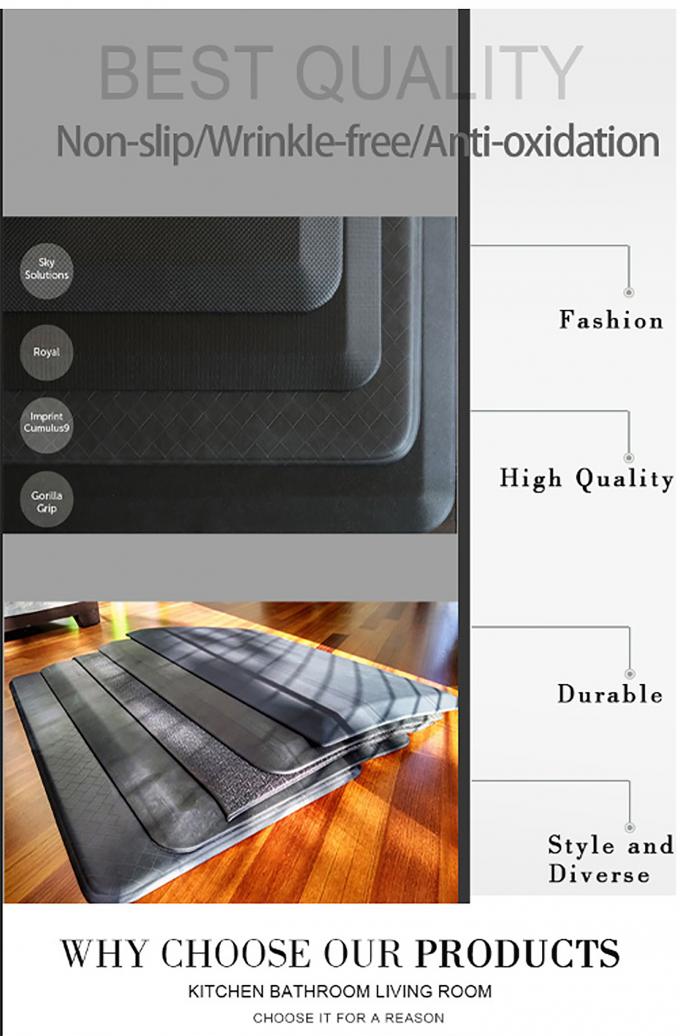 Application

Applications of our Anti-Fatigue Floor Mat
Standing Desk Accessory
Pair with an Airlift sit-stand desk for an ergonomic workstation.
Supportive mats take the sting out of standing while at work, helping you stay up with less fatigue.
Work in comfort at home or at the office. Live Well. Live AIRLIFT.

Kitchen-Ready Design
Mats are waterproof and perfect in front of wet spaces like sinks and tubs.
Cleaning the mat is easy. Soap and warm water is all you need.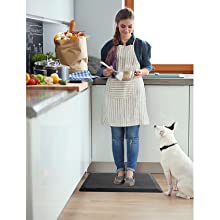 ---
---