Mat Making 50HZ Low Pressure PU Foam Injection Machine
Product Detail
Product Tags
Product Type:
Foam Net
Dimension(L*W*H):
4100(L)*1250(W)*2300(H)mm
Machine Type:
Injection Machine
Condition:
New
Voltage:
380V
Power (kW):
168kW
Weight (KG):
1200 KG
Warranty:
1 YEAR
After-sales Service Provided:
Video Technical Support, Free Spare Parts, Field Installation, Commissioning And Training, Field Maintenance And Repair Service, Online Support
Key Selling Points:
Automatic
After Warranty Service:
Video Technical Support, Online Support, Spare Parts, Field Maintenance And Repair Service
Applicable Industries:
Manufacturing Plant
Name:
Injection Foam Equipment
Filter:
Self-cleaning Filter
Material Feeding:
Automatic Feeding System
Control System:
PLC
Metering Pump:
Precise Metering
Foam Type:
Flexible Foam
Tank Volume:
250L
Power:
Three-phase Five-wire 380V
High Light:

50HZ Low Pressure PU Foam Injection Machine

,

250L Low Pressure PU Foam Injection Machine

,

50HZ polyurethane foam injection machine
Brand New Low Pressure Polyurethane Foam Injection Machine For Mat Making Features of Low Pressure Foam Machine: 1. Accurate measurement: high-precision low-speed gear pump, error ≤0.5%.
2. Uniform mixing: Multi-tooth high-shear mixing head is used, with reliable performance.
3. Pouring head: special mechanical seal is used to prevent air leakage and material pouring.
4. The material temperature is stable: the material tank adopts its own heating temperature control system, and the temperature control is determined, and the error is ≤2℃
5. The whole machine adopts 7-inch touch screen and PLC module control, which can be poured regularly and quantitatively and can be automatically cleaned by air flushing.
| | | |
| --- | --- | --- |
| No. | Item | Technical parameter |
| 1 | Foam application | Flexible Foam Mats |
| 2 | Raw material viscosity(22℃) | POL ~3000CPS ISO ~1000MPas |
| 3 | Injection flow rate | 54-216g/s |
| 4 | Mixing ratio range | 100:28~48 |
| 5 | Mixing head | 2800-5000rpm, forced dynamic mixing |
| 6 | Tank Volume | 120L |
| 7 | Input power | Three-phase five-wire 380V 50HZ |
| 8 | Rated power | About 11KW |
| 9 | Swing arm | Rotatable 90°swing arm, 2.3m (length customizable) |
| 10 | Volume | 4100(L)*1300(W)*2300(H)mm, swing arm included |
| 11 | Color( customizable) | Cream-colored/orange/deep sea blue |
| 12 | Weight | About 1000Kg |
Material tank:
This is the storage tank A and B tank of the polyurethane high pressure machine. Polyurethane and Isocyanate raw materials are separately installed.
Material of the tank: SS304
Size of feeding flange: φ150
Capacity: 250L
Quantity: 2
Mixing head:
The mixing head adopts floating mechanical seals, and its high shear mixing screw head, which can mix two materials (Polyurethane and Isocyanate) with better performance.The raw materials are stirred at high speed in the mixing chamber by stirring blades to achieve a mixing effect, so that the liquid is uniformly sprayed to form a desired product.
Electrical control system:
1. Fully controlled by SCM (Single Chip Microcomputer).
2. Using PCL touch screen computer. Temperature,pressure, revolving speed display system.
3. Alarm function with acoustic warning.
Raw Material Formula Solution Support:
We have our own technical team of chemical engineers and process engineers, all of whom have more than 20 years of experience in PU industry. We can independently develop raw material formulas like polyurethane rigid foam, PU flexible foam, polyurethane integral skin foam and polyurea that meet all customer' s requirements. Application: Polyurethane floor mats are a natural shock absorber that quickly rebounds to a minimum weight deviation, encouraging blood flow to the feet, legs and lower back.
The unique cushion is designed for the best softness to minimize the harmful and painful consequences of standing for a long time, reduce the pressure and tension of standing for a long time, prevent future injuries, and improve morale and productivity.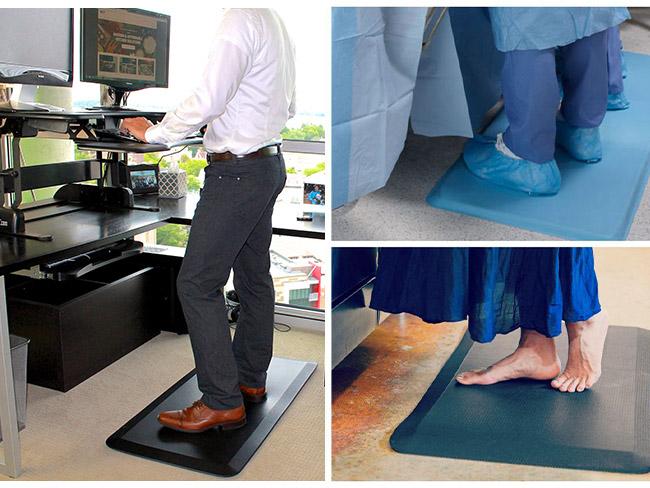 Polyurethane low pressure machine can be used to manufacture floor mat.  Our Factory: Yongjia Polyurethane Co., Ltd. is a professional machinery manufacturer in PU industry combined with design, development, production. Founded in 2013, the construction area of over 10,000 square meters, is the China forefront polyurethane technology company. At present our company's products range covers:high pressure pouring machine, low pressure foaming machine, PU spraying foam machine, PU elastomer casting machine, also we customize to make production line according to clients requirement,like in flexible foam system we make the lines: PU shoe /sole/insole production line(Egypt),anti-fatigue mat production line(India),memory pillow production line(Iran),Albania,elastic ball production line(Mexico),car seat and cushion production line(Morocco),PU slow rebound ear plugs line(India);rigid foam system we make the line:PU decorative molding crown cornice line(Saudi Arab), float trowel making line(Saudi Arab, Pakistan), cold storage panel production line(Uzbekistan),sandwich panel production line(Iraq).Elastomer line:forklift wheel casting line(lran);coal sieve screen select line(Russia).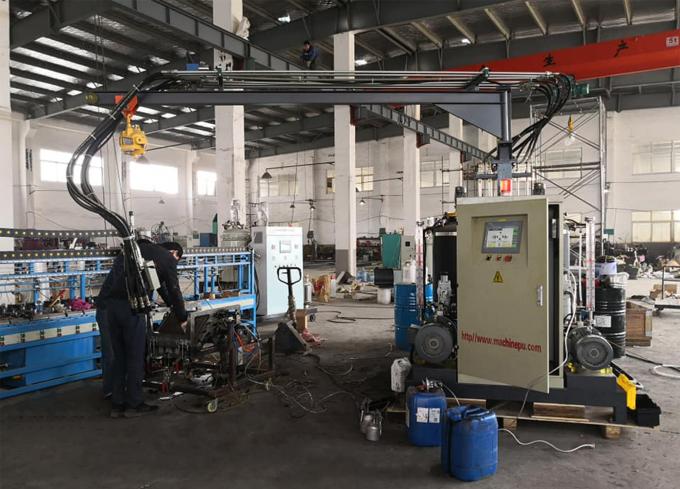 Our Team: We have professional team of mechanical engineer, chemical engineer, process engineer, etc, all of them have more than 10 years experience in PU foam filed. Also, we have special sales team, they are young but hard-working and experienced. We can meet any your requirements of the PU foam product, pu mold and PU foam machines.
Our Service:
1. Professional and patient consulting service to help you find the suitable solution.
2. Further negotiation about the technical details, machine configuration, price basis, payment term and delivery time.
3. Powerful control of the machine production schedule and quality, and keep you posted about details in time.
4. Free training in our plant during machine inspection. Or photos and video of the machine and package for your confirmation before shipment.
5. Quick and safe shipment as per your requirement including the booking ,container loading, and shipping documents.
6. For technical support, we can help you online by email and phone, also we can send technicians to your site if necessary.
7. For the spare parts, we will supply the parts for free during one year guarantee period, also the parts supplying at original cost after that .
8. We give an accessory box for free.
9. We offer development solutions for raw material formulations.
10. If you need to visit the factory, we will arrange for personnel to pick up the airport.
---
---