Motorcycle Seat Production Line PU Flexible Foam Bicycle Seat Making Machine
Product Detail
Product Tags
The equipment consists of a polyurethane foaming machine (low pressure foaming machine or high pressure foaming machine) and a disc production line. Customized production can be carried out according to the nature and requirements of customers' products.
Used in the production of polyurethane PU memory pillows, memory foam, slow rebound/high rebound sponge, car seats, bicycle saddles, motorcycle seat cushions, electric vehicle saddles, home cushions, office chairs, sofas, auditorium chairs and other sponge hair foam products.
Easy maintenance and humanization, high production efficiency in any situation; stable machine operation, strict control of components and accurate. The automatic opening and closing mold base and automatic pouring can be selected according to production needs to save labor costs; the disc production line uses a water heating system to heat the mold to save electricity.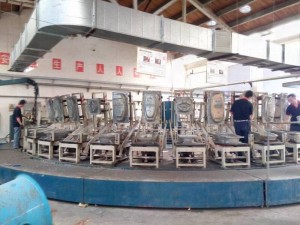 Specification 
PU Production line

Type of Production line

Dimension of production line
18950×1980×1280
23450×1980×1280
24950×1980×1280
27950×1980×1280
Dimension of worktable
600×500
600×500
600×500
600×500
Quantity of worktable
60
75
80
90
Sprocket center distance l4mm
16900
21400
22900
25900
Quantity of drying tunnel
7
9
9
11
Heat type
TIR/fuel
TIR/fuel
TIR/fuel
TIR/fuel
Heat device
Electric heat pipe/fuel heater
Electric heat pipe/fuel heater
Electric heat pipe/fuel heater
Electric heat pipe/fuel heater
Power(KW)
23
32
32
40
Application
---
---