Banana Type PU Pouring Injection Machine for PU Foam Safety Shoe Soles
Product Detail
Product Tags
Banana Type PU Pouring Injection Machine for PU Foam Safety Shoe Soles
Introduction:
This equipment is used to produce polyurethane insoles, outsoles, high heels, leather shoes, casual shoes, safety shoes, travel shoes,slippers, sandals, flip flops and other all kinds of polyurethane shoes.
Bucket
Metering Pump
Metering Pump Motor Power
Spit Out Quality
Total Power
A.120L
JR9
0.75kw
10-40g/s
8.5kw
B.120L
JR3.6
0.55kw
S.2L
JR0.3
0.2kw
This equipment includes one two/three components low pressure pu foam machine and one automatic banana-type production line. According to the client's production capacity, the production line has 24, 36, 60, 80,100, 120 or other mold stations for choose.
two component shoe sole low pressure foaming machine
This machine has high repeat injection precision, even mixing, stable performance, easy operation, and high production efficiency, etc.Specially used for pu shoe sole production.
1. Material tube:
Raw materials are delivered in pipeline to mixing head.A material pipe adopts high strength anti corrosion PTFE hose, which can effectively avoid the chemical reaction with raw material and influence its quality.B material pipe adopts high strength rubber hose, pressure resistant 8MPa.
2. Mixing device(pouring head):
Adopting floating mechanical seal device, high shearing spiral mixing head to make sure the even mixing within required  adjusting range of casting mixing ratio. Motor speed is accelerated and frequency controlled through triangle belt so to realize the high speed rotation of mixing head in mixing chamber.
Application:
PU or polyurethane is one of the most widely used materials in the soles of footwear.
PU is not genuine leather, but it's made from split leather which is then coated with the polyurethane material.
PU soles are slip-resistant, that is they will offer you utmost grip in almost all the slippery surfaces. Also, they are resistant to chemicals, abrasion and oils.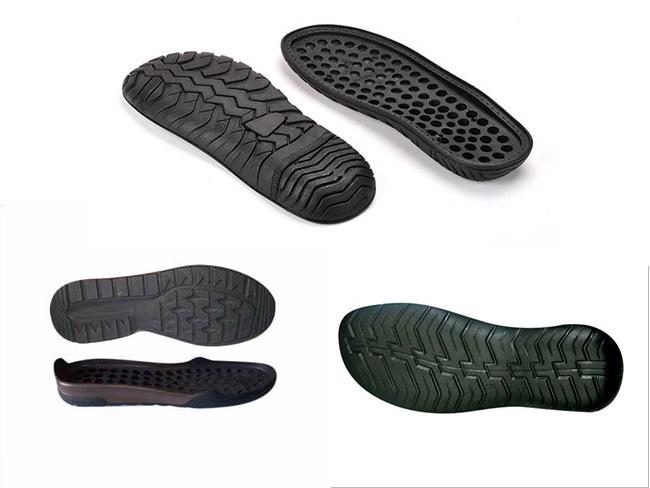 ---
---