Portable Pneumatic JYYJ-Q400 Polyurethane Spray Foam Machine
Product Detail
Product Tags
Power Source:
3-phase 4-wires 380V 50Hz
Heating Power:
18KW
Driven Mode:
Pneumatic
Air Source:
0.5~0.8 MPa ≥1.3m³/min
Raw Output:
2~12 Kg/min
Maximum Output Pressure:
22Mpa
AB Material Output Ratio:
1:1
Warranty:
1 Year
High Light:

JYYJ-Q400 PU spray foam machine

,


18KW Polyurethane Spray Foam Machine

,


JYYJ-Q400 Polyurethane Spray Foam Machine
Polyurethane Foam Spray Machine

Introduction of Waterproof Spray MachineThis equipment is can be used for various construction environment with spraying a variety of two-component spray materials and has been widely used in embankment waterproof, pipeline corrosion, auxiliary cofferdam,tanks, pipe coating, cement layer protection, wastewater disposal, roofing, basement waterproofing, industrial maintenance, wear-resistant linings, cold storage insulation, wall insulation and etc.

SPECIFICATIONS FOR JYYJ-Q400 PU Spray Machine
Parameter
Raw material
polyurea polyurethane
Features
1. Digital counting system( display the consumption of raw materials in real time )
2.More light and easy to carry
3.Using 160 cylinder
4. both polyurethane and polyurea can be used
Power source
1- phase 380V 50HZ
Heating power
18KW
Driven mode
pneumatic
Air source
0.5-0.8 MPa ≥1m³/min
Raw output
2-12 kg/min
Maximum output pressure
22MPA
Poly and ISO material output ratio
1:1
Spare parts
Spray gun
1 Set
Heating hose
15-120 meters
Spray gun connector
2 m
Accessories box
1
Instruction book
1
Features1. Stable cylinder supercharged unit, easily providing adequate working pressure;2. Small volume, light weight, low failure rate, simple operation, easy mobility;3. Adopting the most advanced ventilation method, guarantee equipment working stability to the maximum;4. Minimizing spraying congestion with 4-layers-feedstock device;5. Multi-leakage protection system to protect the safety of the operator;6. Equipped with emergency switch system, help operator deal with emergencies rapidly;7. Digital counting system can understand original consumption timely;8. Reliable & powerful 380V heating system enables rapid warming of raw materials to the best state, making sure it works great in cold condition;9. Humanized design with equipment operation panel, super easy to get the hang of it;10. Feeding pump adopts big change ratio method, it can easily feed raw materials high viscosity even in winter.11. The latest spraying gun has great features like small volume, light weight, low failure rate, etc;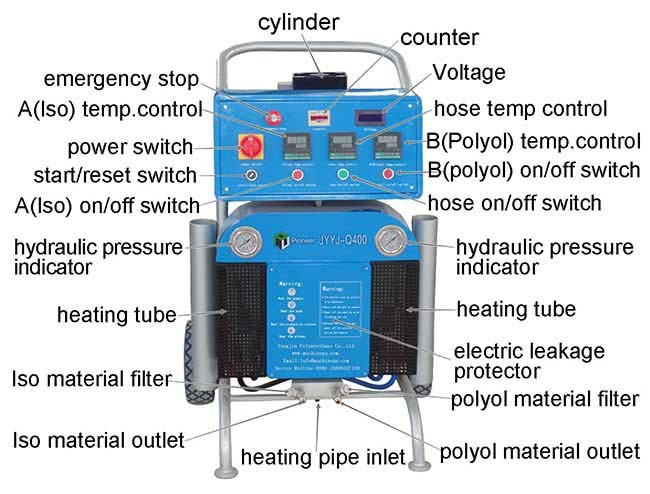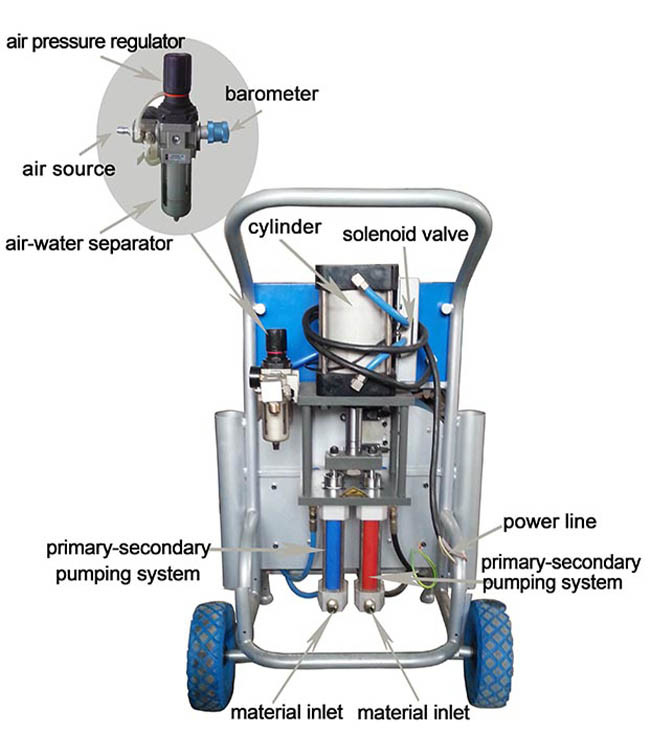 ApplicationsIt is a dual-purpose equipment, which can use two-component polyurethane black and white materials and polyurea A/B materials, which is very versatile. Polyurethane: The polyurethane spraying machine has a pouring gun head, which can be used for pouring and heat preservation of doors, windows, pipes and other closed parts, so that the product can achieve the effects of sound insulation, insulation and heat preservation, and can increase the rigidity of the product structure. Mainly used in the following areas:
1. Automotive interior parts: excellent mixed atomization effect, excellent spray line shape, can be used to produce smooth and flat automotive interior parts with high-quality requirements.
2. Roof and outer wall: Spraying a large area of ​​roof and outer wall with a large-diameter, large-flow circular spray mixing nozzle can enhance the heat preservation, waterproof and thermal insulation capabilities of the house.
3. Molding: It can be used to fill high-density polyurethane foam in the cavities of animal specimens, human models and craft decorations.
4. Cold storage insulation: Polyurethane rigid foam has increasingly replaced rock wool, polystyrene and other materials as the main insulation material for cold storage. Special large-flow air-cleaning spray guns are used in cold storage spraying with extremely high production efficiency. No joints, save materials, and the spray gun is not easy to block.
5. Doors, windows, pipes and other closed parts: the polyurethane foam is poured into the closed cavity by the pouring head to make the product achieve the effects of sound insulation, insulation and heat preservation, and also increase the rigidity of the product structure.
6. ​​Boats: Pour polyurethane foam into the hull interlayer to reduce the weight of the hull and increase its rigidity; spray polyurethane foam under the deck to increase the buoyancy of the hull. Polyurea: Polyurea spraying is widely used in the protection of concrete, the anticorrosion of steel components, and the waterproofing of roofs. It has also been well used in the chemical industry of power plants: widely used in clarifiers, wastewater tanks, water tanks and acid systems for corrosion protection, etc.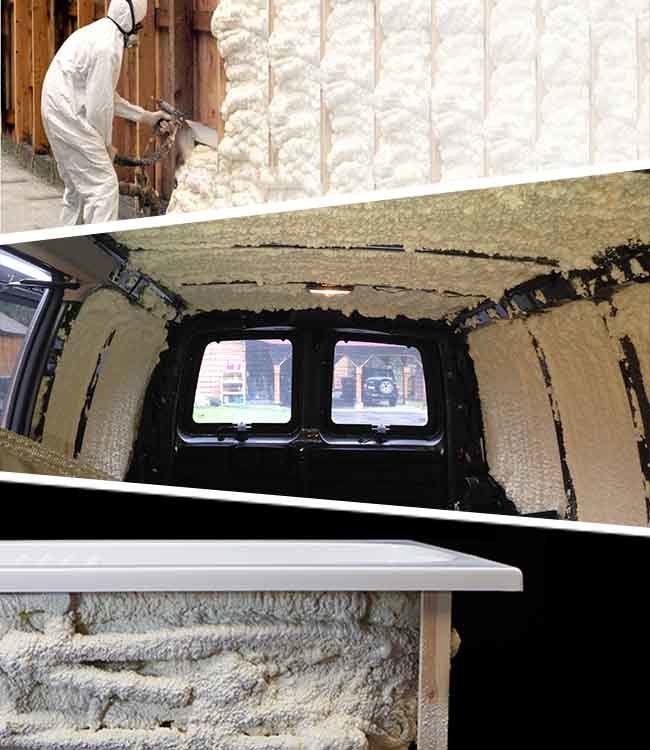 Package&Delivery

Packaging
Size
1010(L) * 910 (W) * 1330 (D)
Weight
114 KG
Packaging Details
The normal package is wooden box(Size: L*W*H). If export to european countries,the wooden box will be fumigated.If container is too tigher,we will use pe film for packing or pack it according to customers special request.
Our Service Exclusive customer service, providing 24 hours' Inquiry and consulting support.Professional team provides the highest quality product solutions including project calculation, construction consultation and so on.Factory tour accompanied by explanation.
---
---