Silicone Rubber Oil Bucket Heater Drum Heater Polyurethane Spray Foam Machine
Product Detail
Product Tags
Size:
125×1740
Capacity:
200V 1000W
Temperature Regulation:
30~150℃ EGO
Maximum Temperature Resistance Of Insulating Material:
250 ℃
Power Deviation:
±8%
High Light:

1000W 5 gallon bucket warmer

,


Silicone rubber 5 gallon bucket warmer

,


1000W bucket element heater
Silicone Rubber Oil Bucket Heater Drum Heater Used With Polyurethane Spray Foam Machine Introduction: Silicone rubber oil drum heaters have good waterproof performance and can be used in damp, non-explosive gas places, industrial equipment or laboratory pipelines, tanks and tanks for heating, tracing and insulation, and can be directly wound on the surface of the heated part. The installation is simple, safe and reliable. Specification:

Room temperature resistance: 24.2 (Ω)
Heating Power:1000W
Voltage:200V
Insulating materials: the maximum temperature of 482 °F (250°C)
Insulation resistance: ≥5 MΩ
Compressive strength: 1500v / 5s
Power deviation: ± 8%
Withstand voltage: > 5 KV
Main use: heating and heat tracing
Function: By heating the surface of the oil drum or plastic bucket,Deliver safe,uniform heat to temperature sensitive materials,Preserve expensive materials without overheating or burning,Prevent product waste by safely maintaining consistent temperatures. This heater has good heating effect, and the internal heating body uses nickel-chromium alloy wire, which has has the characteristics of flat-plate ultra-thin and fast heat generation, high thermal efficiency and long service life.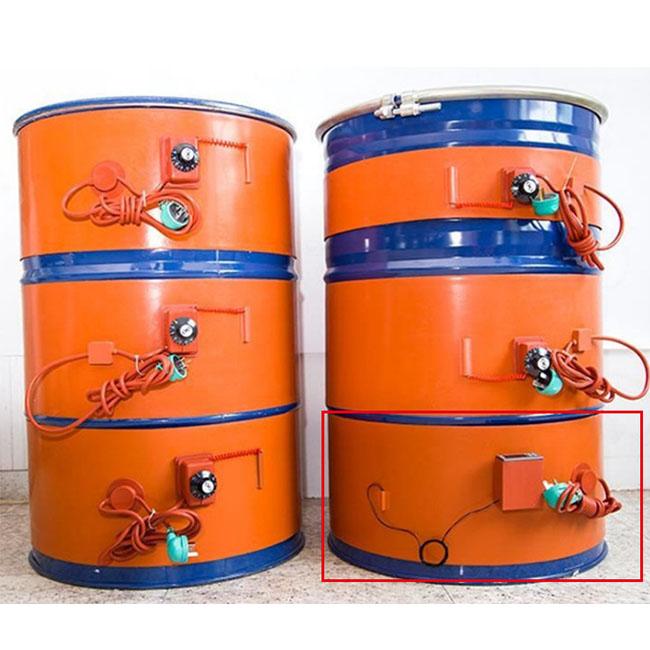 Performance safety: The springs and the hooks at the two ends, the installation is convenient, the energy saving is safe.Silicone rubber heater combines aluminum alloy and silicon rubber through a special process. Moisture-proof silicone rubber and alkali-free glass fiber double insulation, so that the heater insulation performance is more reliable.
---
---