Memory Pillow Polyurethane Foam Orthopedic Contour Pillow Making Production Line
Product Detail
Product Tags
Memory Foam Bath Pillow Pouring Machine Production Line
Product Description:
Pillow production line can be divided into three parts: 1.low pressure foam machine, 2.pillow production line, 3.pillow mold.
Main Component Of the Supportive Pillow Production Line Overview:
PU foaming machines have wide application in the market, which have features of economy and convenient operation and maintenance,etc. The machines can be customized according to customers' requirement for various output and mixing ratio. Main unit: Material injection by a precision needle valve, which is taper sealed, never worn, and never clogged; the mixing head produces complete material stirring; precise metering (K series precision metering pump control is exclsively adopted); single button operation for convenient operation; switching to a different density or color at any time; easy to maintain and operate.
Control: Microcomputer PLC control; TIAN electrical components exclsively imported to achieve the goal for automatic, accurate and reliable control can be imputed with more than 500 working position data; pressure, temperature and rotation rate digital tracking and display and automatic control; abnormity or fault alarm devices. Imported frequency converter (PLC) can control the proportion of 8 different products. The twenty station foaming line is arranged in a planar ring structure, and the frequency conversion motor is used to drive the whole motion of the wire body through a variable speed turbine box. The speed of the transmission line can be adjusted by frequency conversion, which is convenient to adjust the production rhythm. The power supply adopts the sliding contact line is introduced, the external source of central gas supply, introduced into each frame body through the joint line. In order to facilitate the replacement of mold and maintenance, the temperature control water, cable and compressed air between the various positions of the mold and the connection of the fast plug connection.It is Safe and reliable with the mold of airbag to open &close.
Low pressure foam machine technical Parameter
Injection output
2-1000g/s
Material tank volume
30L-120L
Mixing ratio range
100:28~48
Mixing head
2800-5000rpm, forced dynamic mixing
Compressed air needed
dry, oil free, P:0.6-0.8MPa Q:600NL/min(customer-owned)
Nitrogen requirement
P:0.05MPa Q:600NL/min(customer-owned)
Temperature control system
heat:2×3KW
Input power
380V 50HZ
Rated power
8KW-12KW
Weight
600Kg-1200Kg
Dimension
4100(L)*1250(W)*2300(H)mm
Whole Production Process Of making a gel memory foam pillow: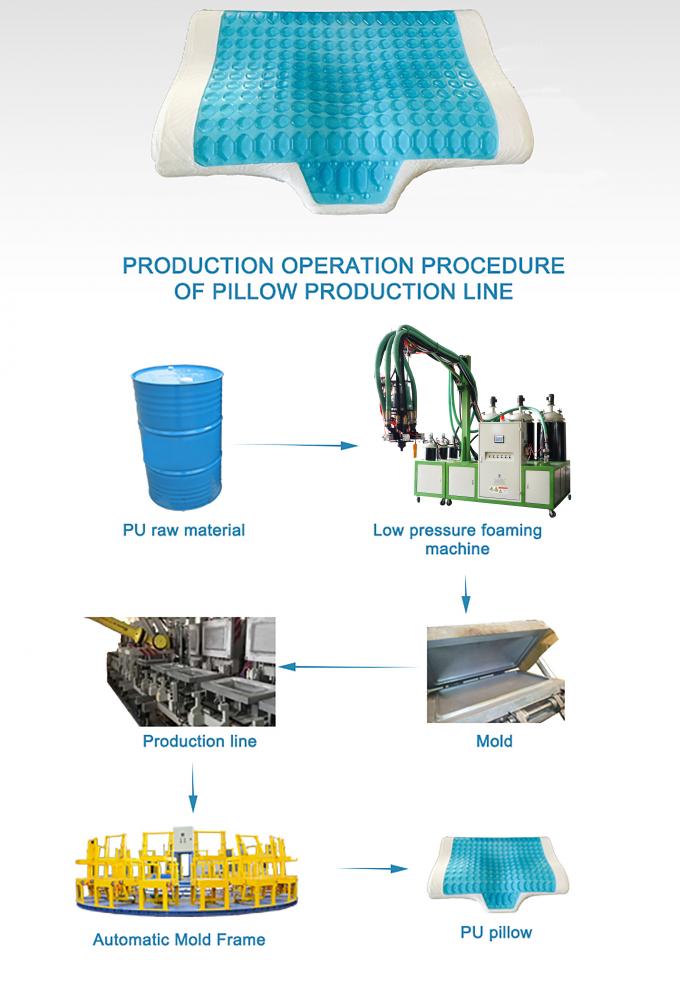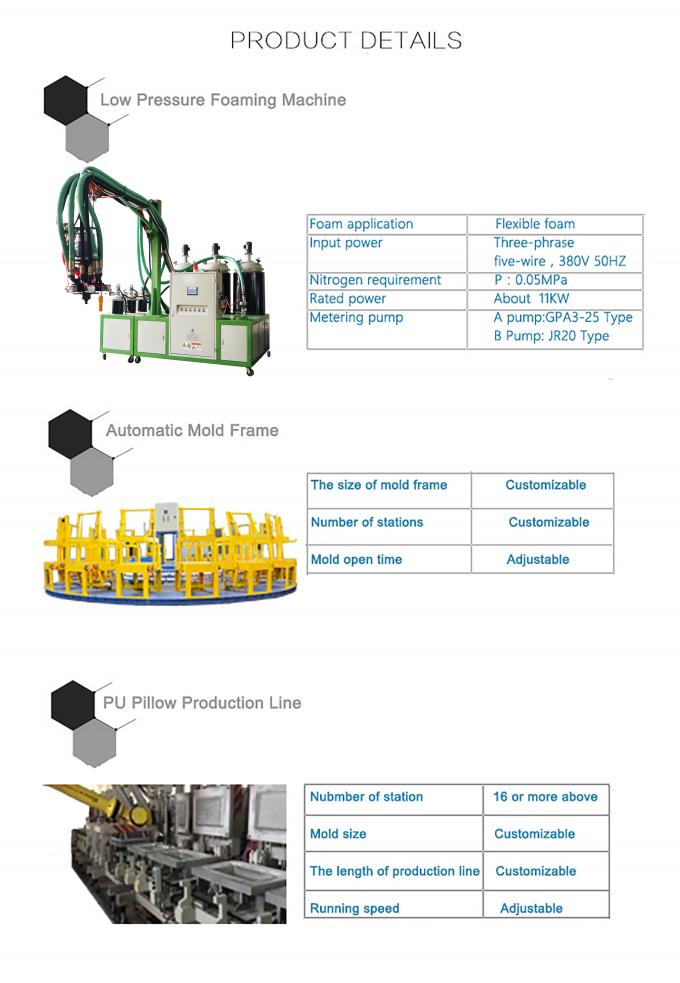 Application:
PU polyurethane foaming machine can be used in the manufacture of PU pillows. This polyurethane material pillow is soft and comfortable, has the advantages of decompression, slow rebound, good air permeability, etc. It is a high-tech material.The size and shape of the PU pillow can be customized.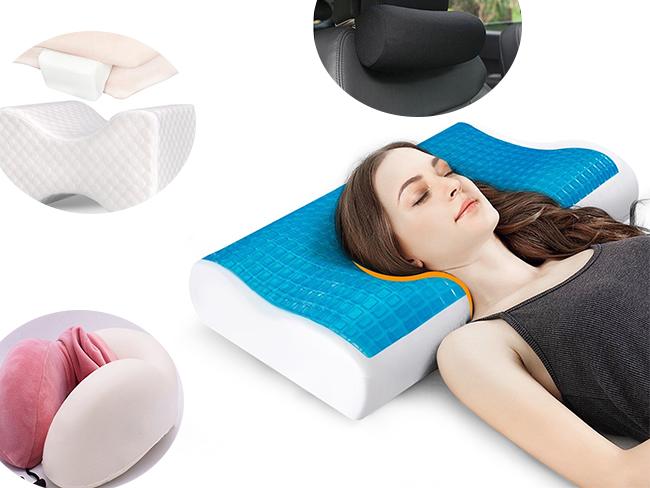 ---
---