Polyurethane Roller 380V 24KW PU Casting Machine
Product Detail
Product Tags
Key Selling Points:
Automation
Product Type:
Foam Net
Machine Type:
Foaming Machine
Voltage:
380V
Dimension(L*W*H):
2300*2000*2300 Mm
Power (kW):
25~31KW
Weight (KG):
2000 KG
Warranty:
1 YEAR
After-sales Service Provided:
Video Technical Support, Field Installation, Commissioning And Training, Field Maintenance And Repair Service, Online Support
After Warranty Service:
Video Technical Support, Online Support, Spare Parts, Field Maintenance And Repair Service
Local Service Location:
Turkey, Pakistan, India
Showroom Location:
Turkey, Pakistan, India
Applicable Industries:
Manufacturing Plant, Construction Works
Key Words:
Polyurethane Casting Machine
Mix Head:
Mix Evenly, No Bubble
Injection Pressure:
0.01-0.1Mpa
Injection Time:
0.5~99.99S (correct To 0.01S)
Temperature Control:
±2℃
Repeated Injection Accuracy:
±1%
Color:
Deep Blue/cream Color/red
Ratio Between A And B:
1 : 1
Raw Material:
Polyol And Isocyanate
Port:
Ningbo
High Light:

380V polyurethane casting equipment

,


YONGJIA PU Casting Machine

,


24KW PU Casting Machine
Polyurethane Elastomer Injection Machine For PU Roller Making With High Quality Application: Suitable for PU roller: Polyurethane rubber rollers have excellent physical properties. The rubber rollers will not become hard and aging after long-term use, and they have good tear resistance and resilience. They have excellent wear resistance, so they have a long service life and are easy to store. Long-term storage will not affect Use effect: can withstand high pressure, high speed, high efficiency production environment. Experiments show that the tensile strength and abrasion resistance of polyurethane rubber rollers are 3 times and 5 times that of natural rubber rubber rollers; the compression permanent deformation and resilience are better, and the service life of polyurethane rubber rollers is 3 times that of ordinary rubber rollers. Times more. PU Elastomer Casting Machine Introduction: PU elastomer casting machine is used to produce castable polyurethane elastomers with MOCA or BDO as chain extenders. PU elastomer casting machine is suitable for manufacturing various kinds of CPUs such as seals, grinding wheels, rollers, screens, impellers, OA machines, wheel pulleys, buffers, etc. product.

| | | |
| --- | --- | --- |
| No. | Item | Technical Parameter |
| 1 | Injection Pressure | 0.1-0.6Mpa |
| 2 | Injection flow rate | 50-130g/s 3-8Kg/min |
| 3 | Mixing ratio range | 100:6-18(adjustable) |
| 4 | Injection time | 0.5~99.99S (correct to 0.01S) |
| 5 | Temperature control error | ±2℃ |
| 6 | Repeated injection precision | ±1% |
| 7 | Mixing head | Around 5000rpm (4600~6200rpm,adjustable), forced dynamic mixing |
| 8 | Tank volume | 220L/30L |
| | A maximum working temperature | 70~110℃ |
| | B maximum working temperature | 110~130℃ |
| 9 | Cleaning tank | 20L 304# stainless steel |
| 10 | Metering pump | JR50/JR50/JR9 |
| | A1 A2 Metering pump displacement | 50CC/r |
| | B Metering pump displacement | 6CC/r |
| | A1-A2-B-C1-C2 PUMPS MAXIMUM SPEED | 150RPM |
| | A1 A2 agitator speed | 23RPM |
| 11 | Compressed air requirement | Dry, oil free P:0.6-0.8MPa Q:600L/min(Customer-owned) |
| 12 | Vacuum requirement | P:6X10-2Pa(6 BAR) Speed of exhaust:15L/S |
| 13 | Temperature control system | Heating: 18~24KW |
| 14 | Input power | Three-phrase five-wire,380V 50HZ |
| 15 | Heating power | TANK A1/A2: 4.6KW TANK B: 7.2KW |
| 16 | Total power | 34KW |
| 17 | Working Temperature | Room temperature to 200℃ |
| 18 | Swing arm | Fixed arm, 1 meter |
| 19 | Volume | About 2300*2000*2300(mm) |
| 20 | Color (selectable) | Deep blue |
| 21 | Weight | 2000Kg |
Product Features of PU Elastomer Casting Machine:
High temperature resistant low speed high precision metering pump,accurate measurement,random error within±0.5%. Material output adjusted by frequency converter with frequency conversion motor,high pressure and precision,simple and rapid rapid ratio control. High performance mixing device,adjustable pressure,accurate material output synchronization and even mix;New type mechanical seal structure avoids reflux problem. High-efficiency vacuum device with special mixing head ensures product no bubbles. Adopting electromagnetic heating method to heat transfer oil,efficient and energy saving;Multi-point temp.control system ensures stable temperature,random error<±2°C. Adopting PLC and touch screen man-machine interface to control pouring,automatic cleaning flush and air purge.stable
performance.high operability,which can automatically distinguish,diagnose and alarm abnormal situations as well as display abnormal factors.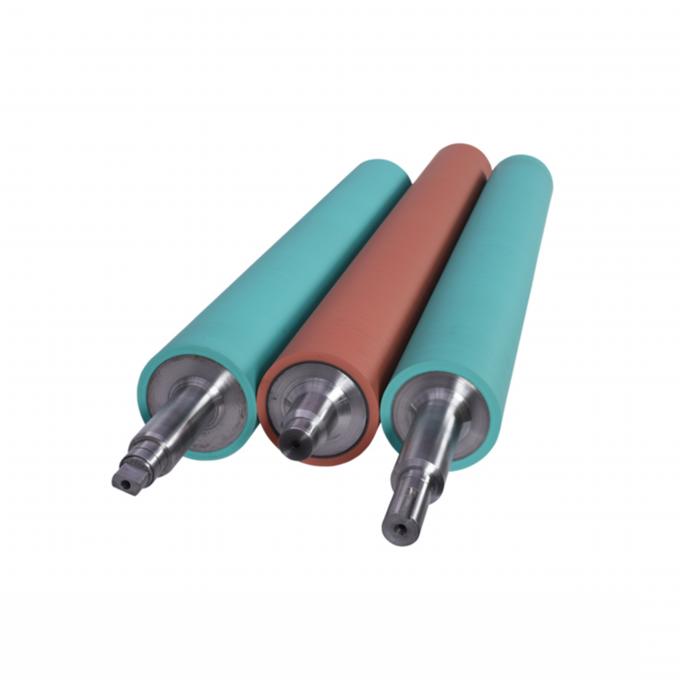 Widely used in the production of CUP type PU elastomer items which adopt MOCA or BDO as chain extender,such as CPU wheel,castor,roller,sieve plate,impeller,seal ring,shock absorber,dumbell and so on. Packing & Delivery: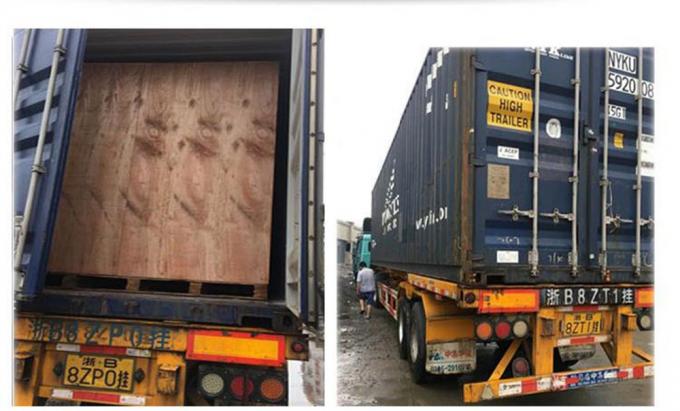 Packaging
Size
2300*2000*2300( mm)
Weight
2.2 T
Packaging Details
The normal package is wooden box(Size: 2600*2300*2600). If export to european countries,the wooden box will be fumigated.If container is too tigher,we will use pe film for packing or pack it according to customers special request.
Our Factory: Yongjia Polyurethane Co., Ltd. is a professional machinery manufacturer in PU industry combined with design, development, production. Founded in 2013, the construction area of over 10,000 square meters, is the China forefront polyurethane technology company. At present our company's products range covers:high pressure pouring machine, low pressure foaming machine, PU spraying foam machine, PU elastomer casting machine, also we customize to make production line according to clients requirement,like in flexible foam system we make the lines: PU shoe /sole/insole production line(Egypt),anti-fatigue mat production line(India),memory pillow production line(Iran),Albania,elastic ball production line(Mexico),car seat and cushion production line(Morocco),PU slow rebound ear plugs line(India);rigid foam system we make the line:PU decorative molding crown cornice line(Saudi Arab), float trowel making line(Saudi Arab, Pakistan), cold storage panel production line(Uzbekistan),sandwich panel production line(Iraq).Elastomer line:forklift wheel casting line(lran);coal sieve screen select line(Russia).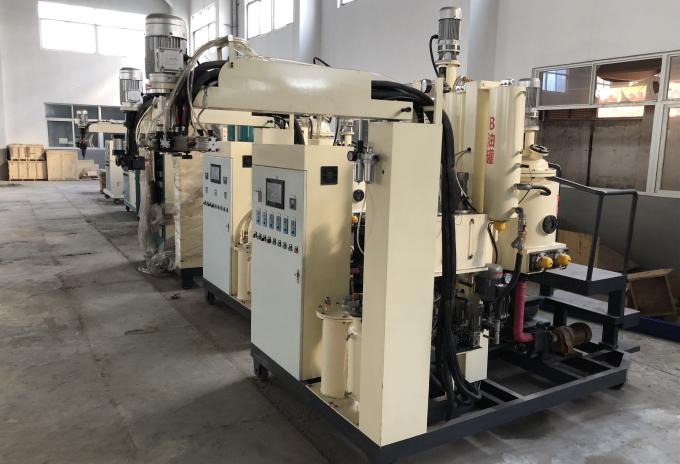 Visitors and Exhibitions:
We participated in many exhibitions of polyurethane raw materials, polyurethane foam products and polyurethane PU foam machines. Our products left a very good impression to everyone at the show, some customers even placed orders on the spot.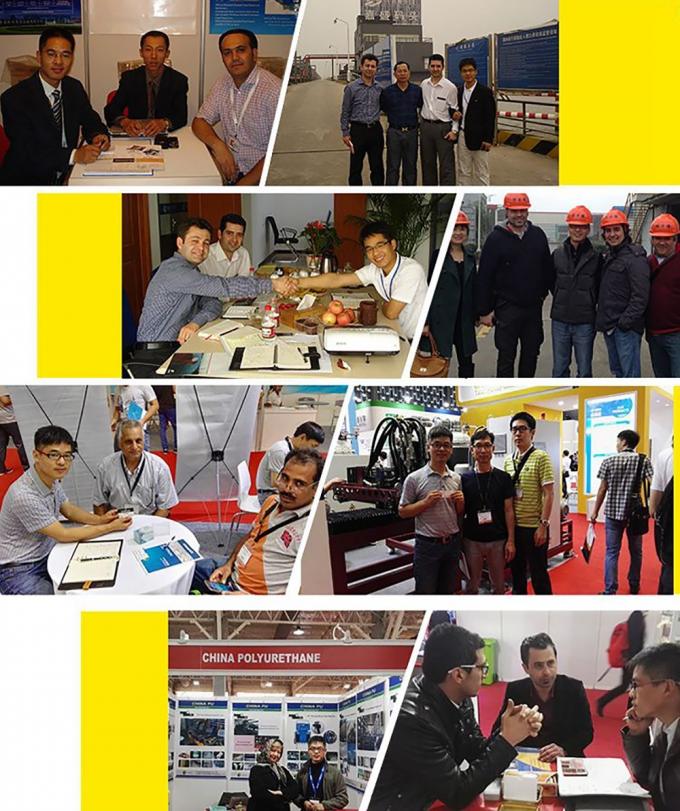 ---
---