Polyurethane Cushion Buffer 25kW PU Casting Machine
Product Detail
Product Tags
Polyurethane Elastomer Injection Machine For PU Cushion Buffer Making PU Elastomer Casting Machine Introduction: PU elastomer casting machine is used to produce castable polyurethane elastomers with MOCA or BDO as chain extenders. PU elastomer casting machine is suitable for manufacturing various kinds of CPUs such as seals, grinding wheels, rollers, screens, impellers, OA machines, wheel pulleys, buffers, etc. product.
| | | |
| --- | --- | --- |
| No. | Item | Technical Parameter |
| 1 | Injection Pressure | 0.1-0.6Mpa |
| 2 | Injection flow rate | 2-5kg/min |
| 3 | Mixing ratio range | 100:6-18(adjustable) |
| 4 | Injection time | 0.5~99.99S (correct to 0.01S) |
| 5 | Temperature control error | ±2℃ |
| 6 | Repeated injection precision | ±1% |
| 7 | Mixing head | Around 5000rpm (4600~6200rpm,adjustable), forced dynamic mixing |
| 8 | Tank volume | 220L/30L |
| | A maximum working temperature | 70~110℃ |
| | B maximum working temperature | 110~130℃ |
| 9 | Cleaning tank | 20L 304# stainless steel |
| 10 | Metering pump | JR50/JR50/JR9 |
| | A1 A2 Metering pump displacement | 50CC/r |
| | B Metering pump displacement | 6CC/r |
| | A1-A2-B-C1-C2 PUMPS MAXIMUM SPEED | 150RPM |
| | A1 A2 agitator speed | 23RPM |
| 11 | Compressed air requirement | Dry, oil free P:0.6-0.8MPa Q:600L/min(Customer-owned) |
| 12 | Vacuum requirement | P:6X10-2Pa(6 BAR) Speed of exhaust:15L/S |
| 13 | Temperature control system | Heating: 18~24KW |
| 14 | Input power | Three-phrase five-wire,380V 50HZ |
| 15 | Heating power | TANK A1/A2: 4.6KW TANK B: 7.2KW |
| 16 | Total power | 34KW |
| 17 | Working Temperature | Room temperature to 200℃ |
| 18 | Swing arm | Fixed arm, 1 meter |
| 19 | Volume | About 2300*2000*2300(mm) |
| 20 | Color (selectable) | Deep blue |
| 21 | Weight | 2000Kg |
Product Features of PU Elastomer Casting Machine:
High temperature resistant low-speed high-precision metering pump, accurate metering, and the random error is within ± 0.5%. The material output is regulated by frequency converter and frequency conversion motor, with high precision pressure and simple and fast speed ratio control. High performance mixing device, adjustable pressure, synchronous and accurate material output and uniform mixing; New mechanical seal structure to avoid backflow problem. Special mixing head high-efficiency vacuum device to ensure that the product is free of bubbles. The heat transfer oil adopts electromagnetic heating mode, which is efficient and energy-saving; Multipoint temperature control system, stable temperature, random error < ± 2 ℃. It adopts PLC and touch screen man-machine interface to control pouring, automatic cleaning and flushing, air purification and stability
Performance. Strong operability, can automatically identify, diagnose, alarm abnormal conditions and display abnormal factors. Application: Suitable For PU Bumper: Polyurethane buffer is a kind of rubber products with high elasticity and high toughness, which belongs to automobile modification accessories. It is used to install at the coil spring of the automobile suspension system, which mainly serves as a buffer and shock absorber and protects the shock absorber.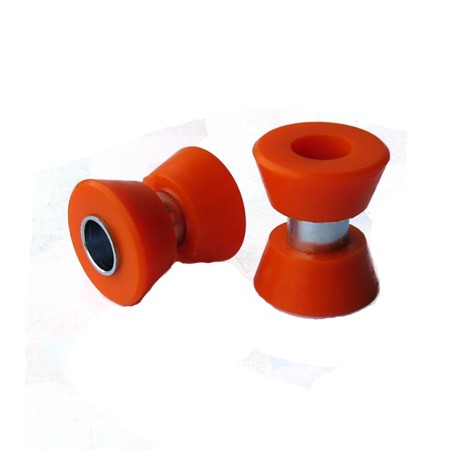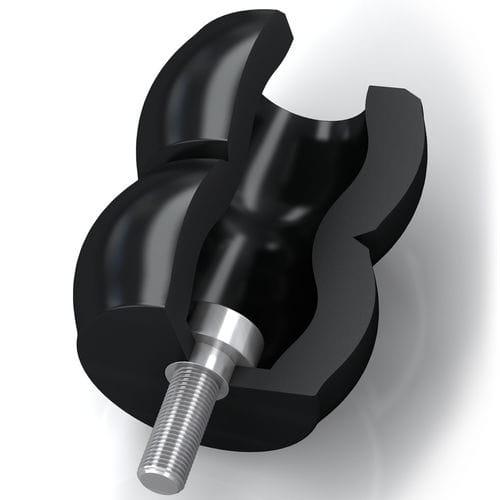 Packing & Delivery:
Packaging
Size
2300*2000*2300( mm)
Weight
2.2 T
Packaging Details
The normal package is wooden box(Size: 2600*2300*2600). If export to european countries,the wooden box will be fumigated.If container is too tigher,we will use pe film for packing or pack it according to customers special request.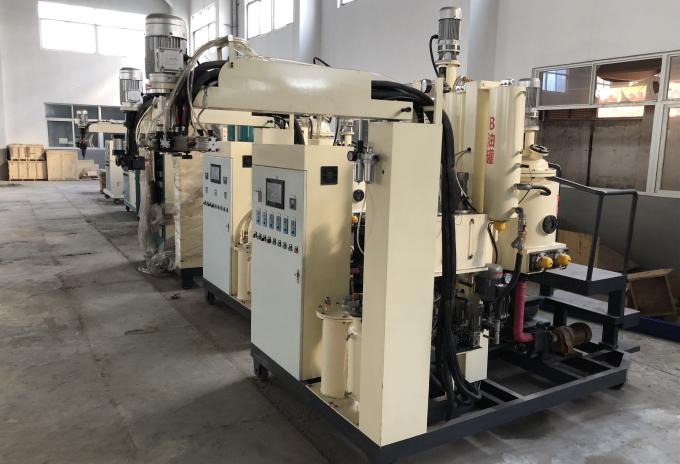 Our Team:
We have professional team of mechanical engineer, chemical engineer, process engineer, etc, all of them have more than 10 years experience in PU foam filed. Also, we have special sales team, they are young but hard-working and experienced. We can meet any your requirements of the PU foam product, pu mold and PU foam machines.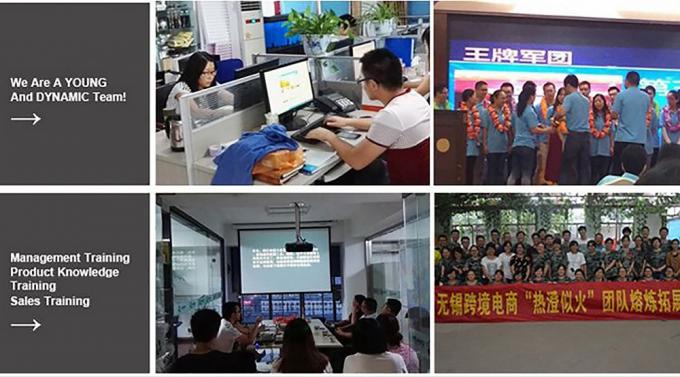 FAQ: FAQ: 1. Are you a factory or a trading company?
We are a professional factory in polyurethane industry, with more than 10 years of experience, covering high pressure casting machine, low pressure foaming machine, polyurethane spraying foaming machine, polyurethane elastomer casting machine and production line.
2. Where is your factory?
Our factory is located in Wuxi city, Jiangsu Province.
3. How can I get to your factory?
By air: You can fly from China to Wuxi Airport. If you fly from Korea, Japan, the United States, Singapore, Taiwan, Thailand, you can fly directly to the United States.
By train: You can stop at Wuxi Station instead of Wuxi East Station.
Do you offer shuttle service?
B: Sure. If you are in Wuxi airport or railway station, we can arrange a special car to pick you up directly to our factory.
5. What is the PU material used in this polyurethane/polyurea foam casting machine?
Polyurethane with two component polyols and isocyanates (poly and ISO/MDI). Polyurea can also be used to prevent water, corrosion and rust. Polyurethanes come in two types, flexible foam and rigid foam. There are also two types of flexible or rigid foam, open-cell foam and closed-cell foam.
6. If I need to develop special PU raw material formula solution according to my product, can you provide it?
Yes, we can. We have a technical team of chemical engineers and process engineers with over 20 years of experience in the polyurethane industry. We can independently develop polyurethane hard foam, polyurethane soft foam, polyurethane integral skin foam, polyurea and other raw materials to meet customer needs.
7. What is the purpose of PU foaming machine?
PU PU foam injection molding machine including high pressure machine and low pressure machine, can produce PU crown molding, PU bed cover, PU plaster float, PU Coldroom panel and other PU rigid foam products; PU elastic foam products, such as car seat cushions and headsets, memory foam pillows, slow rebound earplugs, PU pressure balls and children's toys.
Polyurethane polyurethane elastomer machine produces elastomer products. Polyurethane elastomer products such as forklift wheels, rollers, screens, etc.
You need to tell us the specific machine application and budget, spraying or casting, then we can recommend the appropriate machine for you.
8. How long is the warranty period of your polyurethane foam casting machine?
1 year. Within one year, if there is no man-made damage, we will provide replacement parts free of charge, but the shipping costs should be borne by the customer.
9. How to solve the failure of polyurethane foaming machine?
Pu spray machine: if there is any quality problem in the one year warranty period, we can provide replacement parts free of charge. If you have operational or other problems, you can send photos or videos to us and we will consult our engineers to help you solve the problem.
High and low pressure foam dispensing machine, elastomer pouring machine and other production lines: this machine has remote maintenance and diagnosis function. You can also send us pictures or videos that our engineers can use to help solve problems.
10. What if I get the polyurethane pouring machine and don't install it? Do you offer installation service?
Yes, we provide video technical support. If you have engineers, you can come to our factory and we will provide on-site installation, commissioning and training. Of course, our engineers can repair the machines overseas.
11. What is the packaging of your PU foam injection molding machine?
Normal packing is wooden case (size: l * W * H). If exported to European countries, the wooden cases will be fumigated. If the container is too tight, we will use polyethylene film packaging or according to the customer's special requirements.
12. What are the shipping methods for your polyurethane foam manufacturing machines?
Polyurethane foam spraying machine can be used by sea and air. For high/low pressure foam machines and other larger machines, only shipping is accepted. But for small parts of the machine, such as an airbrush and agitator head, The Express also works.
May I be your agent in our country?
We've been all over the world such as Pakistan, Iran, Malaysia, Algeria has some pu injection molding machine, high and low pressure foam injection machine, pu elastomer casting machine agent, if you are interested, you can send your intention and your company's information and personal contact information, then we will our request sent to you by email, To see if we can work together.
14. How can I buy your PU foam machine and pay for it?
First of all, you can place an order at Alibaba through the payment methods accepted by Alibaba, such as letter of credit, telegraphic transfer, D / P, etc. Or you can pay US dollars through bank transfer, or you can pay RMB in another way and transfer it to our RMB account. 15. how much is the delivery of polyurethane foam filling machine after payment?
Our spray insulation foam machine costs less than 15 days, but the size of the machine love high pressure foam casting.
Machines and elastomer casting machines require 45-60 days of production time, and the production line will take more time.
---
---