Earplug High Pressure PU Foaming Machine
Product Detail
Product Tags
Feature
1.Adding material sample test system, which can be switched freely without affecting normal production, saves time and material;
2.Low speed high precision metering pump, accurate ratio, random error within ±0.5%;
3.Adopting three layer storage tank, stainless steel liner, sandwich type heating, outer wrapped with insulation layer, temperature adjustable, safe and energy saving
4.Adopting PLC and touch screen man-machine interface to control the injection, automatic cleaning and air flush, stable performance, high operability, automatically distinguish, diagnose and alarm abnormal situation, display abnormal factors;
5.Material flow rate and presure adjusted by converter motor with variable frequency regulation, high accuracy, simple and rapid ration adjusting;
6.High-performance mixed device, accurately synchronous materials output, even mixture. New leakproof structure, cold water cycle interface reserved to ensure no blockage during long downtime;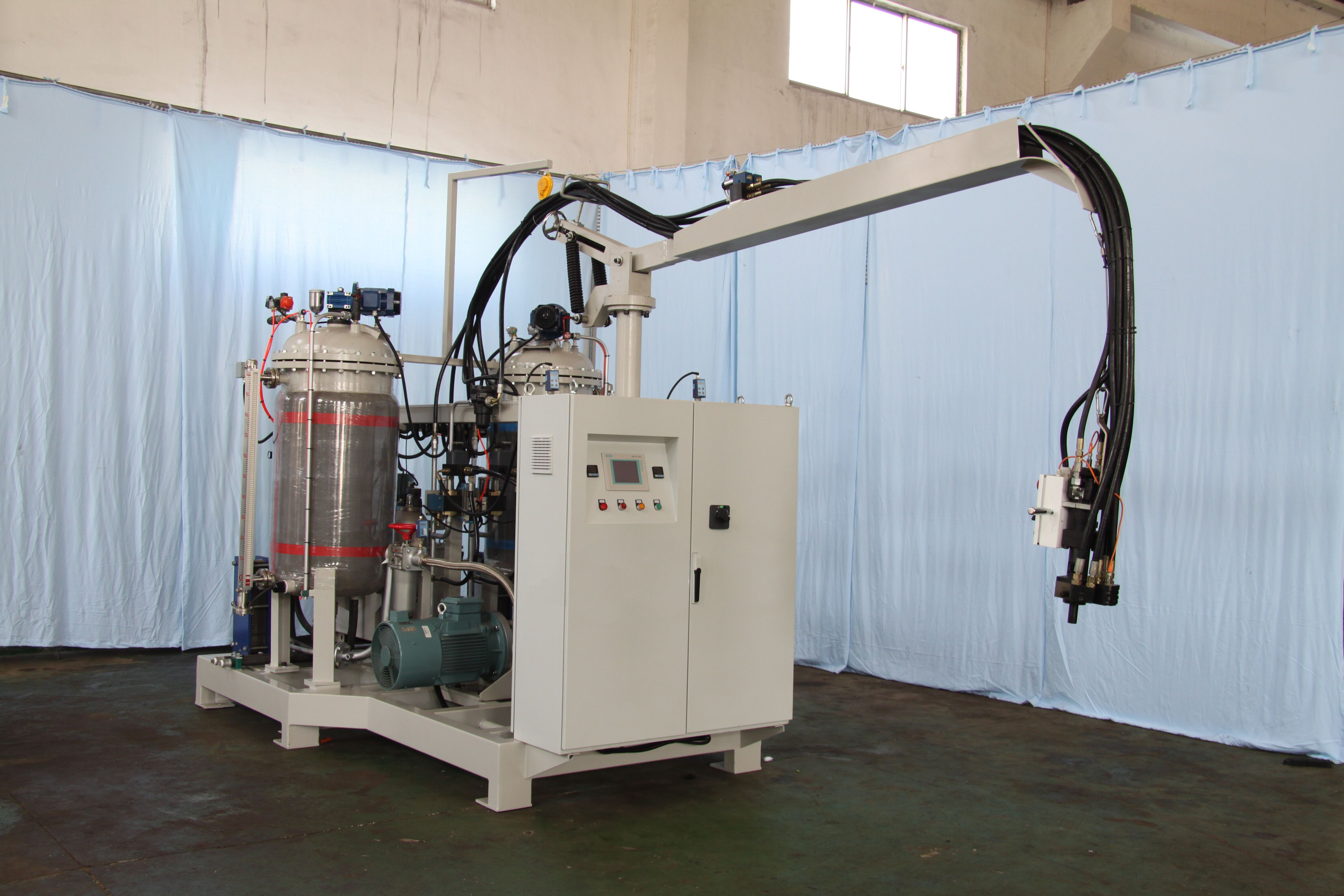 Detail
1.Measuring unit:
1) The motor and the pump are linked by a magnetic coupling
2) The metering pump has a digital pressure gauge to control the discharge pressure
3) Equipped with double protection of mechanical and safety relief valve
2. Component storage and temperature regulation:
1) Pressurized sealed double-layer tank with visual level gauge
2) Digital pressure gauge is used for pressure control,
3) Resistance heater and cooling water solenoid valve for component temperature adjustment (optional for chiller)
3. Electrical control system:
1) The whole machine is controlled by PLC
2) Color touch screen control panel, friendly and simple interface, can realize functions such as parameter setting, status display and pouring time
3) Alarm function, sound and light alarm with text display, failure shutdown protection
Application
Compared with silicone, earplugs made of polyurethane sponge have better softness and breathability, and are more comfortable to wear. They are suitable for sleeping earplugs for long-term use. At the same time, the use of polyurethane earplugs is more secure, and it is harmless to directly contact the human body, and the hidden danger is small.
---
---